Kids Love Acupuncture 
Forget needle-phobia. Tiny acupuncture needles are a big hit with kids, moms and doctors at Seattle Children's Hospital and here in East Lansing as well. Acupuncture started out as a pilot program at Seattle Children's Hospital, but its use has grown dramatically with patients requesting acupuncture five days a week.1 The reason? Acupuncture is a surprisingly gentle and effective choice for kids with health problems. So effective, that over one third of pediatric Pain Treatment Services at children's hospitals in the United States now offer acupuncture services.
Acupuncture Is a Gentle and Effective Choice for Kids
Acupuncture Provides Relief without Adverse Side Effects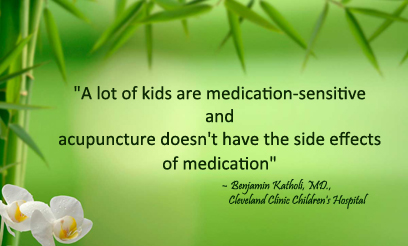 Achieving treatment goals and improving quality of life for children and teens dealing with painful health conditions requires developing personalized plans of care, that include a combination of medication and nonpharmacologic treatments. The most successful care increasingly uses integrative medicine as an essential component of the patient care treatment plan.2 Sometimes there's only so much medication can do to provide relief, and pediatricians prefer to avoid side effects that can have long-term consequences so increasingly they are recommending acupuncture for children and teens. "A lot of kids are medication-sensitive and acupuncture doesn't have the side effects of medication", explains Cleveland Clinic Children's Hospital physical medicine and rehabilitation specialist, Benjamin Katholi, MD.3According to Dr. Katholi, acupuncture can also reduce the number of doctor visits by addressing multiple symptoms in a single treatment. 
"Acupuncture provides an amazing alternative to chronic pain medication. This is especially true for patients who may have to cope with pain for most of their life, including those who have sickle cell anemia and aftereffects of cancer. In addition, it helps with anxiety and depression," says Paul Kent, MD, pediatric oncologist at Rush University Medical Center.4
"I've had patients completely weaned off all their pain medications when receiving acupuncture therapy," Kent adds. "It also has benefited patients who struggle with chronic nausea."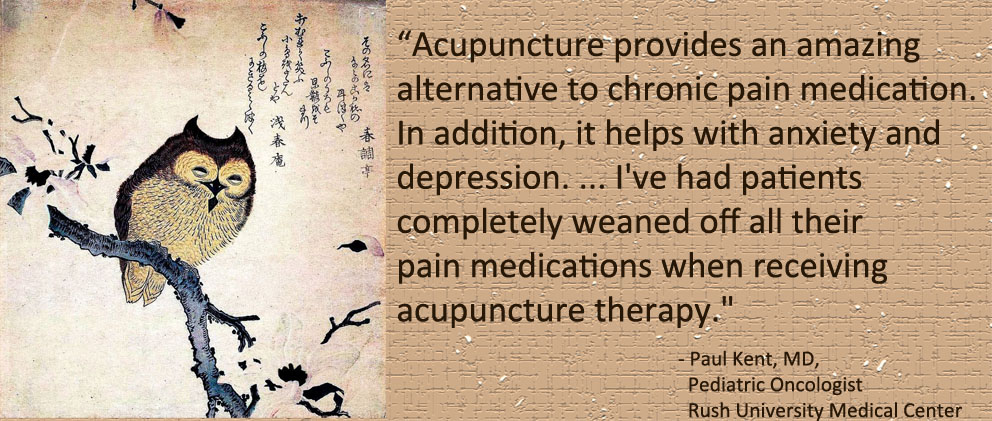 Acupuncture Is Safe for Children 
Although acupuncture may be something new for many parents in mid-Michigan, its use in children is increasingly common throughout the United States. A study published in the journal Pediatrics, found that needle acupuncture in children is safe when performed by well-trained professionals.5 Professional acupuncturists receive thousands of hours of training so that they can provide safe and comfortable needle techniques. They dedicate themselves to mastering the ancient art of acupuncture so their patients can achieve the maximum benefit from their treatments. At Three Mountains Wellness, acupuncturist Liz Billings not only received her Masters in Oriental Medicine, she has also traveled to Korea for years to learn advanced techniques. As a result, children in her practice receive gentle, painless acupuncture or acupressure treatments that really help. Many of Three Mountains' parents and patients also choose to learn simple acupressure protocols that they can do at home to continue to stimulate the healing process between office visits. This nurturing approach is both helpful and empowering as it puts healing in your hands and helps parents and kids cope with difficult injuries and illnesses.
Children's Acupuncture Is Pleasant and Helpful
In another separate study, also published in the journal Pediatrics, "pediatric patients with chronic, severe pain found acupuncture treatments pleasant and helpful."6 Contrary to conventional wisdom that erroneously assumes kids will be reluctant to participate in treatments involving needles, this study showed that kids found the treatments pleasant. One 17 year-old girl diagnosed with endometriosis, chronic fatigue syndrome and headaches said that "Acupuncture was not painful, and was very relaxing." Most parents also felt that acupuncture was a positive experience for their children. According to one father, his daughter's "visits to the acupuncturist were anticipated positively and she had a better attitude for studying, better appetite and less pain" after treatments. 
Kids with many conditions can benefit from pediatric acupuncture. Although many people know that acupuncture is great for pain, acupuncture also helps children and teens with a wide range of issues, including: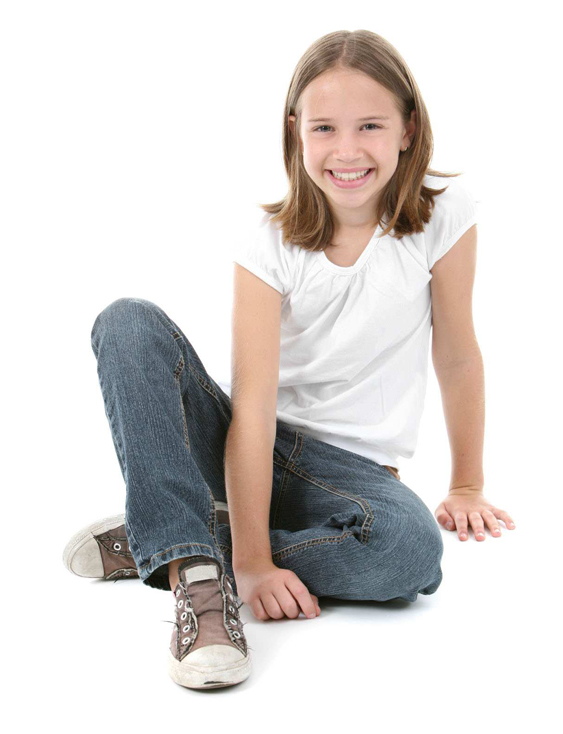 Sleep problems
Anxiety
Fatigue
Headaches
Acid reflux, nausea and stomach pain
Bone and joint pain
ADHD, ADD
Autism
Asthma and allergies
Bedwetting
Endometriosis and dysmenorrhea (painful periods)
Sports injuries
At Three Mountains Wellness, kids experience the healing energy that follows as the body is encouraged to find a healthier level of homeostasis. The tiny hair-fine needles are designed to stimulate the central nervous system, not inject fluids and drugs. The needles don't have to be big or painful because the focus is on stimulating the body's own internal healing processes by balancing and stimulating our life energy, called Qi. Needles are the most efficient way of stimulating the Qi, rebalancing the body and promoting healing, but kids can also be treated with gentle acupressure or magnets for gentle, constant stimulation of the acupuncture points. 
For more information on pediatric acupuncture and to find out how it may benefit you or your child, call Three Mountains Wellness at (517) 763-1497.
If you enjoyed this article and found it helpful, sign up now for updates from Three Mountains Wellness. 
{ BreezingForms : NewsletterSubscriptionOptIn }
References:
1. Enersen, J., Kinsey, J. Needles Don't Hurt A Bit at Seattle Children's. NBC King5 Children's Health Link. Dec. 2015.  http://www.king5.com/story/news/health/childrens-healthlink/2015/12/29/needles-dont-hurt-bit-seattle-childrens/77448072/
2.  Johnson, A., Kent, P., Swanson, B., et al. The Use of Acupuncture for Pain Management in Pediatric Patients: A Single-Arm Feasibility Study. Alternative and Complementary Therapies.  December 2015, 21(6): 255-260. http://online.liebertpub.com/doi/abs/10.1089/act.2015.29022.ajo
3. Children's Health Team, Cleveland Clinic, Acupuncture for Kids A Surprisingly Effective Choice, February 2013 http://health.clevelandclinic.org/2013/02/acupuncture-for-kids/
4. DiFiore, N. Not Ordinary Growing Pains. Study: Acupuncture Effective for Chronic Pain In Children   https://www.rush.edu/news/not-ordinary-growing-pains&utm_campaign=25c99e9560-Inside_Health_December_15_Volume_1_Number_33&utm_term=0_c47fef6e30-25c99e9560-220112713
5. Adams, D., Cheng, F., et al. The Safety of Pediatric Acupuncture: A Systematic Review. Pediatrics Dec 2011, 128 (6) e1575-e1587; DOI: 10.1542/peds.2011-1091.  http://pediatrics.aappublications.org/content/128/6/e1575 
6. Kemper, K., Sarah, R., Silver-Highfield, E. et al. On Pins and Needles? Pediatric Pain Patients' Experience with Acupuncture. Pediatrics. 2000;105;941 http://pediatrics.aappublications.org/content/pediatrics/105/Supplement_3/941.full.html